At the family gathering, you are being introduced to a distant cousin you haven't seen since childhood. The introduction usually includes your status as a business owner. "Do you remember little Cousin Bobby? He owns his own company now." Or you hear it as you pass a conversation; "There goes Rebecca. You know, she has her own business."
 You know what they are thinking. It may be the somewhat awed tone of being in the presence of success, or a "Who would believe it?" skepticism. When you are a business owner among non-owners, the undercurrent of envy and admiration comes from certain commonly held beliefs about the lifestyle of a business owner.
 You pay yourself as much as you want. As the holder of the checkbook, you can just decide how much salary you need, and take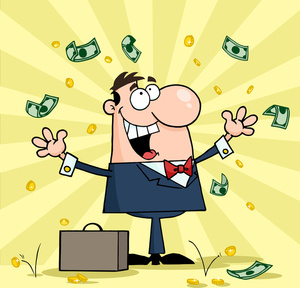 it. After all, if you determine other people's compensation, so you determine your own, right?
 You only work as much as you want. No one tells you to be in the office by a particular time. No one orders you to stay at your desk until a deadline is met. You can't get fired for leaving early. You don't have to accrue vacation. If you work a lot of hours, it's probably just because you like money so much, and want more. (See belief number one, above.)
 You only do what you want to do. That's why you have employees. You can pay people to do whatever you don't like to do. You write your own job description, as well as everyone else's. No one is crazy enough to write a job description for themselves for a job they wouldn't want to do! (Are they?)
 Of course, you are probably smiling right now. We know what it takes to start and build something that achieves that level of freedom. It can take years to get there, and it's seldom an easy road. Many of us never make it that far.
 But it could be true. The vision other people have of an ideal entrepreneur's life isn't wrong, it is merely miss-timed. The entrepreneur always believes that such a lifestyle is in the future, it just isn't here yet. It will just take a lot of work, a lot of talent, and at least a modicum of luck to make it happen.
 It should be true. Along the way, however, many (if not most) entrepreneurs stall in the  "lots of hard work for inadequate reward" stage of building a business. It happens because as the business grows, they are drawn away from what they enjoyed the most, from what they were best at, and into what the business demands that they do. They become farmers.
 Management is farming. Balancing the checkbook is farming. Paying the rent is farming. Locking up the business at night, or opening it in the morning is farming. Purchasing supplies is farming. Writing procedures is farming.
 Bringing in new sources of revenue is hunting. Finding and training great employees is hunting. Closing deals is hunting. Outmaneuvering your competitor is hunting. Motivating people to excel is hunting.
 As an entrepreneur, you owe it to your company, your employees, your customers and yourself not to get tied down in farming activities. You started your business to do what you do best- not so that you could teach yourself a set of skills that you have little inclination to learn.