In business, there is a danger that a big new project, landing a giant customer, or an unexpected personal event will draw your attention away from the job of running your business.
When an owner is the driving force behind day to day operations, he or she often lacks the ability to deal with a huge challenge and still maintain a handle on the company. I've seen family illness, building a new home, or adding a new product line consume an owner's attention until the core business foundered.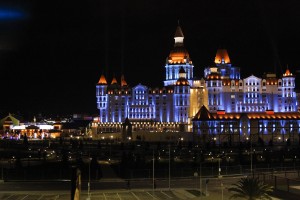 The Sochi Olympics were Vladimir Putin's BHAG (Big Hairy Audacious Goal). Despite throwing $51,000,000,000 at the project, he faced a lot of skepticism as the games approached. It really looked like the Russians had taken on more than they could handle.
By any reasonable measure, the games were a resounding success. Iffy conditions are always a factor in winter sports, but the athletes and most of the spectators have been lavish in their praise of Sochi. Security held up. If stray dogs and unfinished hotel rooms are the worst stories thousands of reporters can dig up, things went pretty well.
Mr. Putin put his personal stamp on the spectacle, appearing regularly to cheer for Russian athletes. His presence reinforced a message; "This is what I have done, and I've done it well."
Did the protestors in Kiev understand that Putin had a bet in Sochi he couldn't afford to lose? Did they anticipate that Russia, in the middle of pulling off this BHAG in front of the whole world, would be unable to prop up Yanukovych as it otherwise might?
The story in the Ukraine hasn't reached its conclusion yet. It would be ironic if the biggest public relations triumph of Vladimir Putin's career resulted in the failure of his strategic plan to reestablish the Russian Federation as  a counter balance to the European Union.
Focusing your efforts on a huge goal is exciting. When you achieve it, the satisfaction and gratification is wonderful. Everyone in your company shares in the adrenalin rush.
But sometimes the biggest impact on your business is from the things that happened while you were looking elsewhere.
My latest book, Hunting in a Farmer's World: Celebrating the Mind of an 
 Entrepreneur, is now available in paperback, hardcover and Kindle. It is an ownership book, not a management book. Please click on the link above to see what business owners think of it.