A few weeks ago, we hosted the 17th annual awards dinner for our members in The Alternative Board of San Antonio. It's fun to recognize people for their achievements. Each of our 14 Boards votes for the most valuable and the most interesting member from the previous year. The most valuable member is high praise indeed, considering that it comes from qualified peers. The most interesting member is usually met with laughter. 🙂
We also recognize business owners for lifetime achievement, community service, comebacks from adversity, and those who implemented the greatest improvements in their companies. It is a fun and positive evening.
The people who seem to enjoy it the most are the spouses of the members. It's an unusual night for them compared to typical business functions.
None of their employees are present. No one is trying to make friends with them in hopes of a nice comment to the boss. No one complains about being overworked. I still remember a nightmarish company party where I spent most of the evening trying to extricate from an inebriated wife haranguing me about how her husband (whom I was about to fire) was unrecognized for his massive contributions to the company.
It isn't a customer or networking event. The spouses don't have to worry about who is important, who spends a lot, or who should be spending a lot more.
Most of all, it is a place where there are only two kinds of people; hardworking entrepreneurs, and people who are in a relationship with hardworking entrepreneurs. They share a bond of sacrifice for a business dream. There is no spouse of a small  business owner who hasn't been asked to sacrifice for the sake of the business.
A few years ago a member's wife (although many of these spouses are husbands of entrepreneurs), attended her first function. She waded into a conversation among three or four other female spouses with enthusiasm. At the first opportunity, she spoke up.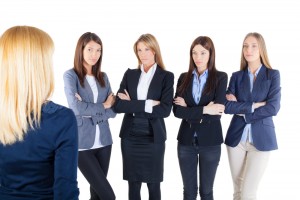 "I don't know about the rest of you, but I have to play second fiddle to my husband's business all the time. We plan our vacations around the business, and he often doesn't come home until after dinner. I'm sure no one has to deal with the demands of the business interfering with your personal life like I do."
I'll never forget the looks of incredulity from the other wives. One mumbled something about "pretty typical." The others simply walked away. In another minute, she was standing alone. She never came again.
If you have a spouse or significant other working in your business, you share a bond in building the company. Even if he or she isn't directly involved, however, you share in the challenges of ownership. Make sure you say "Thanks" on a regular basis.
Hunting in a Farmer's World: Celebrating the Mind of an 
 Entrepreneur, is an ownership book, not a management book. "John Dini's writing is crisp, peppered with good data and concise, pointed stories, revealing how deeply he knows the head, heart and guts of entrepreneurs." (Read more reviews)