To paraphrase an old New Yorker cartoon  "I love being self employed. You can set your own hours, as long as you don't mind working 24 each day." Many owners find themselves "too busy" running a company to concentrate on the longer term improvements that come with planning, employee development and creating new initiatives.
An extra pair of hands would be "handy."  From the Hindu deity Kali to Star Wars' cyborg General Grievous, and from Edgar Rice Burroughs' Barsoomians to Spiderman's foe Doctor Octopus, multi-armed characters have always been a metaphor for strength. For an owner, adding extra hands to your working capacity is a powerful force for improving your company.
Yet, many owners I work with refuse to hire an assistant. They spend hours each week playing telephone tag with customers, writing memos, and following up with employees. When asked why they don't have someone perform those tasks on their behalf, they say "Because I can do them perfectly well myself."
They are missing the point. An assistant's purpose is to free your time to do the more important things that no one else can handle. Your principle responsibility to your business is leveraging resources to produce profit.
Here's a Rule of Thumb I use in my consulting work. In order to pay expenses and make a profit, I need to produce at least $400 for each hour of a 40-hour week. A good assistant, with fully loaded salary and overhead, costs about $40 per hour. So every hour that assistant frees me for revenue producing activities is leveraged ten to one.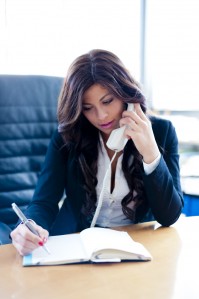 With that kind of return on investment, I don't worry much about filling every minute of her time. I see too many owners who are focused on keeping people "busy." If my assistant is bogged down with routine tasks, she won't have the capacity to juggle the dozens of unplanned responsibilities I toss her way regularly. Each time one of those winds up in my lap, I am spending ten times what it should cost me to get it done.
Keeping the leverage ratio in mind makes it much easier to ask "Do I need to do this myself?" about most activities. It's not at all unusual for me to call in between appointments with "I just told Bob we'd send him information on the management training program. Charlie left a voice mail, he needs to move our next meeting. I emailed you a draft of a memo, please edit it,  clean it up, and send it to my phone for approval. Oh, and I need to see that analysis we did last month on ABC company; they are asking about the next step."
I just saved two hours, or a net of $720 in available productivity. That's enough to pay an assistant's salary for almost a week. No brainer.
This Wednesday is Administrative Professionals Day. Like most owners, I smile at the marketing prowess of the gift and greeting card industry. None the less, they deserve the recognition, and I appreciate being reminded of it.
Hunting in a Farmer's World: Celebrating the Mind of an 
 Entrepreneur, now has its own Facebook Page. Tell us your stories and read reviews from business owners who are putting the lessons of 7,000 years to work in their businesses.