Utility Infielder, Jack-of-All-Trades, Mr. Fixit, Chief Cook and Bottle Washer, Know-It-All, Do-It-All, Swiss Army Knife, Center of the Universe. There are many ways to describe the myriad business roles filled by the owner of a small business. Here's another. The Glubricant.
I have to share credit for this column with my friend and client Phil Canter, owner of Digital Pro Lab. During a coaching session discussing employees Phil was struggling to describe his primary responsibility in his company. Either Phil misspoke or I misheard what he said and voila, a new word is born. (Of course, I've since looked it up in the Urban Dictionary and discovered we hadn't coined it; it's just not used very much.)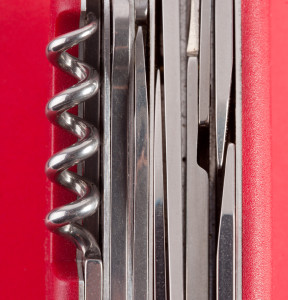 It is one of those new words that I like because it's meaning is intuitive. Every owner (and manager) can understand it on first hearing. Like Ginormous (a far more popular made up word) it combines two well known words into one, but in this case it's a combination of antonyms. Glue and lubricant have opposite functions. Using one as a substitute for the other would assure bad results. Leadership, however, is an ongoing process of deciding which tool to put in play on a minute-by-minute basis.
Managing people effectively means getting them to work together. Sometimes that takes glue, and sometimes it takes lubricant. Knowing which role to assume, and when, is the key to building a successful organization.
This week we were Honorable Mention in the San Francisco Book Festival and reviewed on HugDug by Seth Godin. Hunting in a Farmer's World: Celebrating the Mind of an 
 Entrepreneur is a nominee for Best Small Business Book of the Year. Please support us, and entrepreneurs everywhere, by taking a moment to cast your one-click vote here. Thank you!