Every business is an organism. It is either growing or dying. I've met a few owners who said "I want everything (sales, staff, profits) to stay exactly as it is," but none who were actually able to pull that off.
As we grow our companies, we hire people. Because entrepreneurs frequently lack the wherewithal to provide salary and benefits in line with big corporations, we tend to look for talent over experience, and attitude over education. In a startup, the founder/owner serves as Chief Training Officer, teaching everyone the business of the business.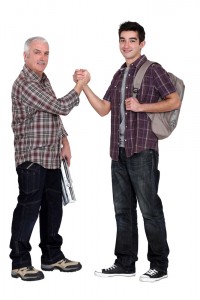 Hopefully, you've experienced the thrill of finding a bright young employee who is anxious to learn. He or she brings great values and work ethic to the workplace every day, and assumes an expanding scope of duties without being asked. Naturally, you are more than willing to grant additional responsibilities.
But there is a limit. Let's face it, the seasoned and experienced professional that you couldn't afford when you started out is more expensive for a reason. That type of employee is expected to bring knowledge you don't have, or skills you can't teach as part of his package.
The employee you trained from scratch has done nothing wrong. He's learned all you can teach him. He is still dependable and energetic. He just doesn't have the resources to take his area of responsibility, or the company, to the next level. Of course, by the time you realize this, he probably already holds a position that requires more horsepower than he can provide.
You can create a new level of management above him. You can demote him to a lesser role. You can fire him. You can try to grow around him. You can provide outside education in the hope that it will make up for lack of experience. You can point out his shortcomings until he quits in frustration.
There are no great solutions.
If you've established a relationship of trust, it is time to have a difficult conversation. Define clearly what you need, and be honest about whether the employee can achieve it while still working for you. If the answer is no, you can plan together how both he and the company will move on with a minimum of pain for both.
Hunting in a Farmer's World: Celebrating the Mind of an 
 Entrepreneur is a nominee for Best Small Business Book of the Year. Please support us, and entrepreneurs everywhere, by taking a moment cast your one-click vote here. Thank you!