I'm returning to this space almost exactly a month from my last post. It's the longest period that I've missed in the last 6 1/2 years, but I heartily recommend a refresh break to business owners, and it was worth taking my own advice.
A brief apology to those readers who received some 30 posts on Friday. It was a glitch in a program update, and it happened so fast we couldn't stop it. Fortunately, it appears to have gone to only a fifth or so of subscribers. If you were one of them, I'm sorry for the inconvenience. I loathe spammers, and it was embarrassing.
Also, while I was gone our staff undertook a revamp of this site. I am so pleased by their work. I hope you like it. Huge kudos to Christi and Devin for their creativity and hard work. On a technical note, it you are still seeing the old red titles for the posts, delete your Temporary Internet Files and it should show in the new fonts and colors. Thanks.
We spent much of our time over the last few weeks in Paris and Barcelona, where many of the businesses are larger and run by employees. One week was in the small towns of Southern France, where most of the establishments we patronized were run by their owners. Although service was excellent with only a couple of exceptions, businesses run by the owners were universally outstanding.
On our first night in Paris the hotel clerk mentioned L'Entredgeu as nearby (in the 17th arrondissement) and the best in the area. We were beat from the plane trip, and walked in at about 8:00 looking for a table. We later found out that reservations usually need to be made 3 days in advance. The owner was clearly surprised at our lack of a booking, but consulted her reservation list, and conferred with the chef as to his supplies for unexpected guests before deciding she could seat us. As the restaurant filled completely with locals (it was very small) we obviously had snared the only free seats for the evening. The food was fabulous, and we never once felt that we were "allowed" in. She was a gracious and attentive hostess, and the experience was a highlight of the whole trip.
Ventenac en Minervois is a very small town along the Canal du Midi. At Le Grillade du Chateau the owner hustled among 30 tables, directing multiple staff and the open kitchen (although clearly with no control over the chickens wandering the outdoor seating area.) She was a Maestro, while serving up some of the best seafood ever in gorgeous presentations.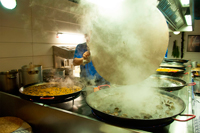 In Barcelona, locals tipped us to the paella restaurant for the cognoscenti, Escriba. We wore out a lot of shoe leather trying to find it, which was by no means a certainty, so again arrived on a Saturday night without reservations. The hostess apologetically said that the only way they could seat us was near the open kitchen. They had no idea what a treat that was, as we spent our evening watching their two chefs handling up to 10 giant paella pans simultaneously. A great meal and a cooking lesson in one night! Most importantly, one of our party has a severe allergy to peppers, which makes consuming any paella a challenge. After initially advising her to order something else, the owner returned to tell us he had consulted with the chef, who had prepared one of the base formulas only an hour before and not yet fully seasoned it. If we would order that specific dish, he felt confident that he could deliver their usual quality without using peppers.
Of course, any of these three or others may not have actually been the owner. Our language skills were insufficient to determine their positions exactly. Perhaps they were just terrific managers with an ingrained appreciation for delivering a memorable experience and taking care of the customer. Certainly they all knew that we were tourists, and unlikely to return much less become regulars. It doesn't matter, they each had the Hunter's attitude, working frenetically and going the extra mile for their customers.
With all the big attractions, from the Mona Lisa to Sangara Familia, it's funny how some of the most lasting memories are made by a single person. Keep that in mind when your next new customer calls.