Not too long ago, I was leading a group of business owners in a discussion. These were not my peer board members, but rather owners at a breakfast, none of whom I'd met before. To start the conversation, I asked each to describe the biggest business challenge he or she faced today.
One older fellow came back sharply. "Rudeness!" He said. "Business people no longer have any manners."
I immediately thought of several versions of this problem. Folks who communicate abruptly via email or text. The near extinction of friendly conversation just to "get to know" customers and vendors. A growing tendency to negotiate via revised Word documents or purchase orders emailed back and forth instead of discussing differences. I didn't know if these were the man's issue though, and so asked him to clarify.
"For my entire career," he said "I've prospected successfully for new customers by dropping in on companies unannounced. I'd just walk into a business, give my card to the receptionist, and ask for 15 minutes of the CEOs time. Once he saw what I had to offer (insurance), he'd often ask me to follow up with a proposal."
"Now, when I ask for the CEO the receptionist usually asks if I have an appointment. When I say 'no,' she refuses to contact the CEO. Even if I get her to call him and ask, he won't come out and see me. I've gone to the trouble of coming to his place of business to meet him, and he won't even do me the courtesy of listening to what I have to say."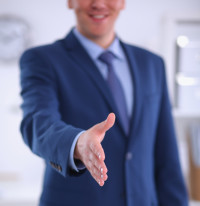 I was aghast. Surely he couldn't be serious? "No soliciting" has become so ubiquitous that most of us don't even bother putting signs on the door anymore…it's just assumed. I certainly don't meet with walk-in salespeople, especially now as they seem mostly to be guys selling something off a truck. Who has an expectation of a CEO welcoming an unscheduled sales visit?
As I considered his issue, however, I realized that most forms of cold calling get the same response. Do you answer emails that offer a free analysis of your web traffic? Do you return telephone messages from companies that have buyers ready to purchase businesses just like yours? Do you RSVP for a presentation at the local steak joint on how to make your retirement savings grow faster? Probably not.
We don't worry about rejecting various forms of mass solicitation because they aren't personal, and we don't expect the sender to take our lack of response personally. An actual, traditional sales cold call is personal, and the salesman is relying on your reluctance to offer a "personal" insult to gain face time. Rejection of the daily flood of sales contacts has become so automatic, however, that we no longer consider any rebuffs to be either personal or rude.
Cold calling has been replaced by warm calling, a contact backed up by a referral, Linked In connection, or shared common interest. As we increasingly categorize, catalog, limit and prioritize our relationships, those outside the circle have less chance of getting through, even if they show up in our lobby.