I have a favorite New Yorker cartoon. A fellow in a suit is standing behind a desk, one hand holding a phone to his ear, and the other with a finger on his calendar. The caption is "How about never? Is never good for you?"
A professional arrives at a business for an appointment. He is informed that the owner, whom he is meeting, just left to take care of an important issue and would probably return in less than an hour. Unable to wait, the professional reschedules.
On arriving for his second appointment, he is informed that the owner is on the telephone, but is aware that he is waiting. Forty minutes later the owner comes out and informs the visitor that he has a lot to do, and the scheduled hour-long meeting will have to be compressed to 15 minutes. When the visitor offers to again reschedule, the owner becomes agitated. "You obviously don't understand," he exclaims. "I am a business owner. I can't just schedule things like other people. I'm far too busy."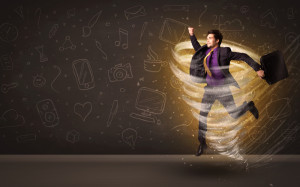 We are all busy. Most of us are too busy. People send emails and then call fifteen minutes later to ask why you haven't answered their email. Some think that having your mobile number absolves them from speaking to the employees whom you pay to handle day to day operations. Others text you with expectations of instant response.
Employees need to talk to you "right away." They lie in wait outside your office to pounce between phone calls with "Do you have a minute?" If there is anything you can be sure of, the conversation isn't just going to take a minute.
Personal time management is the burden of every business owner. Effective time management is the skill of an executive. I typically see the proudly out of control syndrome in less experienced owners. They are still enjoying the ego rush of "I own this place. These people all work for me." They like the fact that employees have to adjust on the fly to accommodate their schedules. They expect salespeople and suppliers to do the same. In some cases, it grows into a full-time habit, and they expect everyone else, including family, colleagues and customers, to work around whatever occupies them at the moment.
Truly successful owners have grown beyond that. They've learned that personal organization and self-discipline are critical components to running a successful organization. They return phone calls, or cause them to be returned. They meet deadlines, or make certain that someone in their organization does. They behave as if everyone else's time is just as valuable as their own.
Owner-centricity is a trap. No one grows really wealthy in a one-person organization, and no large organization can be effective if it is tied to the activities of one person.
I've worked with hundreds of owners. Some are in control from the outset. Some learn it along the way. Those who build successful companies have all figured it out. If you want to own a business that really gives you the flexibility to do what you choose, a good first step is to stop being proud of the fact that you can do whatever you choose.