Do we become more cautious with age?
Startups are usually associated with younger entrepreneurs. By the time they reach their 50s or 60s business owners tend to tackle fewer big new ideas. Those that do tend to be successful enough that they can segregate the risk in a way that won't threaten their core livelihood. Are they smarter, or just more fearful of failure?
There are any number of business axioms about the value of experience. "Experience is what you get when you don't get what you want." or "Good decisions come from experience. Experience comes from bad decisions." Does the caution that accompanies age come from experience, or just from a natural reduction in adrenalin?
The youngest Baby Boomers turn 50 this year. Collectively, they represent over half the small business ownership in the United States. There is an important macroeconomic issue attached to the general ageing of owners. If risk-aversion is a biologic phenomenon, then we can expect millions of small employers to drift into "harvest mode," maintaining their businesses as vehicles for current cash flow and retirement security. They will leave growth and innovation to a younger, but substantially smaller group of entrepreneurs.
Some of their caution is due to external influence. As companies grow and founders age, they become far more conscious of their responsibility to employees' families and children. Putting everything on the line has potential impact not only on workers, but the extended small economy that depends on their wages. Greater responsibility generates greater caution.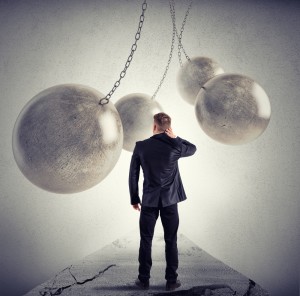 When you are starting out, have fewer people depending on you, and mistakes have fewer consequences (see my 2014 post The Luxury of No Resources),  it's easier to take a leap. If you fail, you're not much worse off than you were before. But there are costs to learning by trial and error. After a while, going back to the drawing board becomes tiresome.
Ideally, the caution that comes with age isn't from fear. It's because you've come to appreciate the value of planning. It's not because you are afraid to make a mistake, but rather you want to avoid the delays that come with making repairs every time you hit a pothole.
Every school of business wisdom extols the value of planning. When we are younger, we tend to ignore it. We scoff at Abraham Lincoln's quote "If I had eight hours to cut down a tree; I'd spend seven sharpening my saw." The tree is right in front of us. The saw is in our hands. We can sharpen as we go. Sometimes that works. Often it doesn't.
Many Boomer owners will operate from a fear of failure. Their businesses will fade as the world continues to change around them and they don't adjust. Hopefully, they've been successful enough in the past to exit comfortably.
Some, likely a small minority, still seek to leave a bigger legacy. They have a shorter time frame, lacking the 30 or 40 years of a full career ahead of them. They've learned to spend the seven hours sharpening, so that the hour spent sawing is easier and more productive. Those entrepreneurs will adjust to change on their own timetable, but  with far better results.
Their caution isn't from fear, but from experience.