Small businesses can't compete with large corporations on salary and benefits. I'm not being unduly cynical, it's just a fact. The top 1/10 of 1% in US household incomes start at $1.9 million annually. Of all those in that rarefied category, 60% are corporate executives.
When it comes to benefits, it's no contest. Small employers, especially those with fewer than 100 employees, usually struggle to pay most of the health insurance premium, and may have some matching contribution to a defined contribution retirement plan. They certainly don't have the bench depth at most positions to allow flexible hours, telecommuting, unlimited PTO (Paid Time Off), extended family leave or educational sabbaticals.
So how do you attract Millennials, who by the end of this decade will be 50% of the workforce, as long term players in your company? The answer is plain… culture. You have to create a workplace that appeals to the type of employee you want, and then work tirelessly to maintain and promote your culture.
It's not easy, but it does work. For an excellent, real-life case study, let's take the San Antonio Spurs. The Spurs are successful beyond question. They are the winningest franchise (by percentage) in the history of major professional sports, beating the New York Yankees, Montreal Canadians and Green Bay Packers. Moreover, they've done it in a market that ranks 37th for television viewers, and is 126th in average household income.
In the sports world, this qualifies as a small business. If the Spurs had a deep-pocket owner it might make up for some of their built-in disadvantages, but they don't. One of their trademarks is working within the salary cap. They manage that by staying away from high-priced free agents.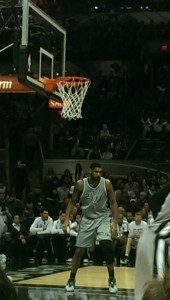 So how did a small-market team with no more money than anyone else manage to stun the basketball world with the most successful recruiting season  in the country? They did it by attracting and grooming players that want to be in a certain culture, and who are willing to forego other material benefits to do so.
The re-signing of four key free agents, along with attracting two new All-Stars who had their choice of teams, comes down to basic business principles. That's not surprising for a team that spouts Jim Collins and Patrick Lencione, and who has every new player take a course on values-based leadership.
How did they do it?
A culture of selflessness. Despite having a roster with multiple all-stars, all-NBA selections and MVPs, the Spurs live a culture of "team-first." Tim Duncan agreed to a salary about equal to first-round pick Karl Anthony Towns, who hasn't played a minute of NBA ball yet. This isn't a courtesy "grand tour" year for Duncan. He was still one of the top 10 players at his position in the NBA through 2014-2015, and will be paid about a quarter of what he could have demanded. Manu Ginobili and Danny Green also signed for far less than they could have made elsewhere. Seeing this attitude, David West in Indiana gave up over $11 million to come and play for the Spurs.
A commitment to excellence. While other teams pursuing LaMarcus Aldridge emphasized their benefits (endorsements, fame), the Spurs kept to their true selves, sending 4 players to meet with him and discuss how they worked together as a team, and their focus on winning.
Communication. The team shared their plans from the outset  with key players like Green and Kawhi Leonard, who both had enough trust in management to wait for certain contract deadlines to pass, allowing the team more financial flexibility.
Planning. The Spurs did their homework on the player they wanted (only the second free agent they've chased in 20 years). They came prepared, pursued the objective intently, and quietly took home the prize without fanfare against much flashier competition.
Yes, I am a fan and (full disclosure) a season ticket holder. I expect people in other cities to root for their home-town clubs. As a small business owner, however, you have to appreciate the Spurs. They assemble a winning team that isn't built around salary and benefits, but rather around a great culture.