A few weeks ago Schumpeter, the nom de plume for each current author of the business op-ed column in The Economist, postulated the decline and fall of the Western Corporation. Could small business be the little furry mammals of the 21st century, triumphing over the seemingly invincible Tyrannosaurs of the business world?
At first, the signs aren't obvious. Corporate profits are now 10% of world GDP, and at the highest level in proportion to the American economy since 1929 (gulp). The number of multinationals has doubled in the last 25 years. Some are sitting on piles of money sufficient to start a country (Apple's $200 billion in cash, for example). This wealth and power is increasingly concentrated, as exchange-listed companies in the USA have declined by half since 1996.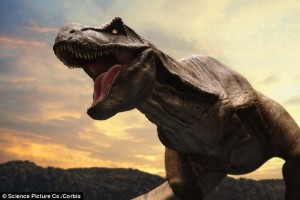 Facebook serves as many people every single month as populate China. Entrepreneurs last names, like Musk, Brin, Zuckerberg and Gates are now associated with space exploration,  third-world aid and medical research, usurping the former exclusive province of governments.
Does all this add up to a Rollerball planet, where corporations replace elected officials in deciding what the world will do? (Assuming, of course, that you don't believe that has happened already.)
Schumpeter says not. The rise of emerging market businesses and the speed with which a new technology can place its owners among the big boys are two ameliorating factors. Privately held tech companies and family conglomerates are breaking the chains of Wall Street's quarterly expectations to follow a longer term vision.
Populism on both the left and right in Europe and America is casting a bright light (and one that is none too flattering) on many formerly opaque corporate practices. The 99% (anyone making less than $350,000 a year) increasingly demand that their votes be repaid, if not with handouts, at least with the opportunity to make a decent wage and advance economically through an individual career.
Increasingly, elected officials win votes by mandating higher wages and benefits. They bolster their budgets when (as under the specific direction of Attorney General Eric Holder) they file charges against big companies with the express intent of forcing large financial settlements.
I can't quite wrap my brain around a world without big corporations. There are changes I'd like to see, like a reining in of executives who award themselves multigenerational wealth while providing a lousy return to shareholders. I think Schumpeter has a point, however. The world of big business has only been around for about 100 years, and has been dramatically taken to the woodshed multiple times in the past. It may be happening again.
I don't think small companies are likely to inherit the business earth, but some leveling of the playing field would certainly be nice. We'll see if that can happen without just making the life of every employer, both large and small, miserable.