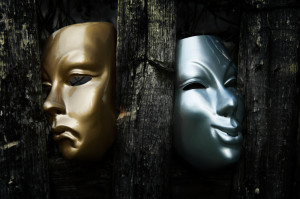 The sentence that titles this post could be defined as the epitome of mixed emotions for a business owner. You won the business, but only because you are willing to work for less than everyone else.
Perhaps you deliberately cut margins because you really needed the work. If so, why is everyone else doing better than you are?
Maybe you put your normal margin on the work. Did you make a mistake? Did you miss something? Are your competitors laughing right now, certain that you are going to lose money on the project?
The situation is most obvious in a bidding environment, but it applies to any business where price is a consideration. If you can only win a customer by being cheaper than everyone else, you're in trouble.
The exception is when you differentiate by being the low cost provider. Most people mistakenly think that means the low price provider. That isn't differentiation. Any fool can sell Cadillacs for the price of Chevrolets, just not for very long.
According to Michael Porter, the guru of Competitive Strategy, anything that truly differentiates you from a competitor costs money. There's no free lunch. "We give great service" only differentiates you from those competitors who claim to give lousy service. "We stand behind our work" only sets you apart from others who say "We take your money and run."
Similarly, "We have the best prices in town" isn't differentiation if you buy from the same sources, pay the same wages, and provide the same resources as everyone else. The only differentiation there is your willingness to be paid less for running your business.
Spending money to be the low cost provider may seem counter intuitive, but if price is a competitive issue, then cost is the key success factor that let's you win the battle. Delivering at a low price while maximizing your return on investment requires (not surprisingly), investment.
An often-used example of a low cost provider is Southwest Airlines. They built a reputation on cheap fares, but if you talk to many of their millions of business traveler fans you'll learn that they engender loyalty less from price than from their ability to deliver.
Look at where they spend their money. Southwest doesn't participate in "find the best price" booking sites like Travelocity and Orbitz. Instead they only sell tickets through their own site, and don't pay commissions. It also lists all flights priced in either dollars or reward points — something no consolidator can duplicate.
Their personnel selection process is legendary, including monthly rotation of employees from the field for a stint in hiring. The result is also legendary, flight and ground crews who "get it" and enjoy working in a culture where great customer service is an expectation.
You may queue up like cattle to board, but when you get a seat it will be leather (which just happens to look nicer and last longer than cloth seats.) While you wait in the boarding area, you are more likely to have access to electrical outlets and a computer workspace than with any other airline.
Speaking of cattle calls, I recently boarded another airline. They started by calling first class passengers. Next came Super Elite Platinum travelers, then Elite Platinum, then Platinum, then Gold, then travelers needing assistance, then those with children, then active military, then retired military, then anyone with their frequent flier card. Then they started boarding by seating group, an opaque process that seems designed to put as many people in the aisle at once as possible.
I was in group five, which I counted as the fifteenth group invited to board. This is an airline that advertises "And you get a reserved seat" as part of their pitch. Price isn't the primary issue when I fly. It's certainly trumped by boarding fifteenth, and having to gate-check my bag when I have a tight connection.
Southwest gets my business not because they are always the lowest, but because I can depend on a consistent product. They spend their money where they should, on delivering what they promise.
We all compete on price, but the challenge is to make a lower price the cherry on the sundae, not the primary reason for doing business with you. You only have the resources to invest in low prices when you maintain strong margins.