Credit for this post goes to Van Palmer, the owner of Palmer Technology Solutions. I'll paraphrase and elaborate, of course. but that's the power of the pen.
In a recent peer board meeting we were discussing our relationships with employees. I like Daniel Goleman's description of the six leadership styles as described in his HBR article in 2000. They are:
Coercive: Do as I say.
Authoritative: I'll lead, you follow using your own talents to reach the goal.
Affiliative: We all need to be happy with what we are doing
Democratic: We'll decide together
Pacesetting: I'm going forward, you keep up.
Coaching: Let me help you be better
As business owners, we all use several styles, depending on the circumstances. I've developed an instrument for looking at these (contact me if you'd like a copy) and most owners score noticeably higher in two or three of the styles. It's often influenced by industry and business model, but I'll come back to that next week.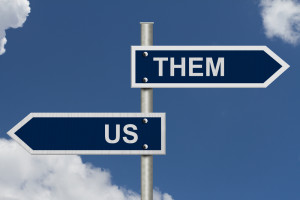 What I've seen for years is the owner or manager's use of the Imperial Plural. "We" perform these tasks. "We" are on target. "We" have to get better. It usually indicates a leader who is concerned about getting buy-in from his or her followers, but not always.
(An aside: One of the things that has always bugged me about President Obama is his customary use of the first person singular. "I am going to see to it that my people produce the result I want." It seldom sounds to me like the whole country is included in his thinking. I've attributed it to his lack of background in leading organizations.)
Coming back to Van, he said that when he runs his company, he defines his own and his employees' internal relationships using four pronouns.
"I" means me. What I want, what I am going to do. What I expect.
"We" means me and my managers. We are going to accomplish something together, or otherwise lead "them."
"Them" is all of the employees who aren't part of "We." Hopefully everyone could be included, but that's not always the case. "Them" refers to those who are unproven, haven't bought in, or otherwise need to be directed and tracked by "we."
"Us" refers to everyone. From health care benefits to incentive plans, and from organizational values to bottom line results, there are many areas where we are all in this together, regardless of our roles.
Which pronouns do you use most often?
Do you enjoy "Awake at 2 o'clock?" Thanks for reading, and please share this post with other business owners.