The Seven Deadly Sins are alive and well in small businesses today. Far from being a hoary religious holdover from the Dark Ages, they are practiced assiduously by entrepreneurs everywhere.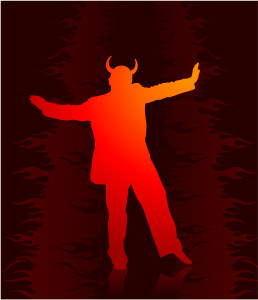 There is something to be said for any concept that catches the public imagination for fifteen centuries. First postulated by Saint John Cassian around 400 AD, the sins were codified by Pope Gregory the Great in the late sixth century, and popularized by Dante Alighieri in "The Divine Comedy" in 1315. They remain present on a daily basis in many businesses  through the 21st century, 700 years on.
The Seven Deadly Sins are Lust, Gluttony, Sloth, Wrath, Greed , Envy and Pride. In a business, they can be divided into Operational, Tactical and Strategic sins.
The Operational Sins are Lust and Gluttony. Lust is present when the owner uses his or her power of position to pull the business in any direction he or she chooses. Gluttony is a tendency to hoard all authority and decision-making for yourself.
The Tactical Sins are Sloth, Wrath and Greed. Sloth in business is settling for "good enough," when a bit more effort would produce a far better result. Wrath is using adrenalin to replace critical thinking, and reacting to problems by ratcheting up your emotional drive. Greed presents itself as the belief that every issue in the business could be solved by "just a little more."
The Strategic Sins of Envy and Pride stem from the owner's personal belief structures. Envy is the belief that no one has the same problems as you do. Pride is a conviction that the company can't survive on a day to day basis without your special talents.
Christianity, of course, has corrective actions for the Seven Deadly Sins. Each sin has its counteracting virtue. For Lust there is Chastity. For Gluttony; Temperance. The sin of Sloth is counteracted by the virtue of Zeal, and that of Wrath by Kindness. Greed is foiled by Generosity, Envy by Love and Pride by Humility.
When applied to business ownership, the Entrepreneurial Sins also have corresponding "virtues" that can reduce or eliminate their negative effect on your business.
The Operational Sins require behavioral changes. The counter to Lust comes with having a Personal Vision. Gluttony is defeated with Delegation.
The Tactical Sins dissipate in the face of internal organizational  practices. Sloth can be overcome by Metrics; the use of clear goals and objectives. Wrath is far less of a problem in the presence of Planning. Greed lessens when there is objective Budgeting.
Strategic Sins are those that can be defeated with more long range initiatives. Envy falters in the face of Knowledge about your industry and your markets. Pride dies a natural death when you engage in Exit Planning.
The Seven Deadly Sins of Entrepreneurs is a fun way to look at much of what we do in our business. I've presented it a number of times as a workshop for local and national business groups, and the idea is catchy enough to have landed me an Easter Sunday television interview a few years ago.
You may not be inclined to New Year's resolutions (I'm not, myself) but most of us start a fresh calendar with some level of intent to "do better." We'll spend the remainder of January examining the indicators of these sins in your business, and what you can do about them.
If you know a business owner who might benefit from correcting one or more of the Seven Deadly Entrepreneurial Sins, please forward this column so he or she can subscribe. Thanks!