Every day, in almost every transaction, we rely on trust in business. We believe that a customer will pay us according to the terms of a sale. Our employees have access to money, goods and confidential information because we trust them.
We order goods from far away, perhaps in another country, and trust that when we open the boxes what is inside is what we ordered. We present credit cards to retail clerks or waiters and trust that they aren't selling our information to thieves.
In the last thirty years we've had a flood of new laws. According to some reports, almost 80% of them are now enacted by bureaucratic fiat. A government agency issues a rule, including the penalties for non-compliance. Regardless of where it comes from, a rule that carries punishment is a law.
The US Chamber of Commerce estimates the cost of business complying with new regulations. It is over $10 billion in added expense every year. In 2015, we added over 3,000 new laws to the book, although Congress only passed about 200 of those.
But has this made us more honest? Why are we even more suspicious and protective than ever before? I think we've come to depend on laws over trust, and that is a mistake.
We have a candidate for President who admits that she endangered national secrets in an attempt to keep her emails from the eyes of the very government she worked for, but points out that she broke no laws.
She met with representatives of foreign governments who simultaneously petitioned her office for benefits while they paid her husband millions of dollars for an hour's work, but they broke no laws.
The other candidate admits that he siphoned large sums from companies that he then put into bankruptcy, ruining hundreds of vendors and contractors, but he broke no laws. He calls it "smart business."
This man acknowledges serial philandering on his serial wives, but wears it as a badge of pride. He makes outrageous claims that he could easily substantiate, but refuses to do so because the law doesn't require it.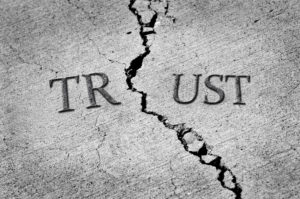 Whatever the outcome of this election, it's plain that we will have a President whom the majority of the country doesn't trust. If they've shown us anything, it is that laws alone can't coerce honest behavior.
Yet we are expected to rely on trust in business every day while complying with regulations designed with the worst players in mind. How many business owners pay employees less than the law allows? Whom do you deal with that you know defrauds their customers?
None the less, the government cranks out 15 new laws every working day, and even the most honest and upright among us have to share the burden of compliance.
No volume of laws can replace trust in business. It's sad that we are about to elect a President who makes that plain.
Please share Awake at 2 o'clock with another business owner. Thanks!