To celebrate the holiday, I'm reprinting a post from 2012 about the underappreciated boss of A Christmas Carol, Mr. Fezziwig. I hope that you enjoy it. Merry Christmas!
Last week was the 170th anniversary of the publication of Charles Dickens' A Christmas Carol (December 17, 1843). The immortal words of Ebenezer Scrooge are ingrained in the memory of the entire English speaking world. I'd venture to guess that "Bah, Humbug!" can be correctly identified as to source and speaker by over 99% of those reading this.
The novella, serialized in five parts, was not a commercial success. Unhappy with the sales of his previous novel (Martin Chuzzlewit– no wonder!), he refused his normal fee from the publisher in favor of royalties on the proceeds, which proved disappointing. Critical reception was favorable, although it didn't catch on in America until much later. The New York Times first published a review in 1863, 20 years after its publication in England.
Like most of Dickens' work, A Christmas Carol clearly includes an indictment of the social inequalities of the Industrial Age; child labor, workhouses, and debtors' prisons. It stands out, however, because of the lessons taught by its memorable ghosts, and the redemption of its main character in only 113 pages.
During the Protestant Reformation in England and Scotland, Christmas had become a period of penance and reflection. A Christmas Carol is credited by many for leading the return to a celebratory holiday, focused on appreciation and thanks for family and friends.
Modern Ebenezers
Modern filmmakers have returned to the straight-ahead plot and uplifting story line (not to mention the recurring revenues available year after year) with a frequency that helps stamp the legend in our psyche. Starting with the 1938 Reginald Owen version (originally released as "Scrooge") and the 1951 Alistair Sim classic, the character of Ebenezer has been tackled by actors ranging from George C. Scott to Michael Caine (with the Muppets). Patrick Stewart, Kelsey Grammar and Rich Little (in various celebrity impersonations) have taken a shot, as have Mickey Mouse, Mr. Magoo, the Smurfs, Barbie, Dora the Explorer and the Flintstones.
Let's not forget the variants; Bill Murray in "Scrooged", or Boris Karloff and Jim Carrey in versions of "How the Grinch Stole Christmas." In all, IMDB lists almost 200 filmed variants of the story.
Unfortunately, the characterization of Scrooge has become ingrained in the minds of many as a stereotype of all bosses who dare to focus on margins and profit. How many employees identify their bosses with Fezziwig, who took pride in making his employees a happy group, even though Scrooge dismissed it as "only a little thing?"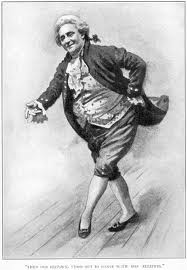 Instead of focusing on  the things that allow Fezziwig to spend lavishly on his employees (a motivated workforce, honesty, doing what's right, profitability), we prefer to fantasize about a boss who expresses sudden enlightenment by unexpectedly bestowing gifts and extra days off. Fezziwig is relegated to an afterthought, an overweight doting uncle with no visible reason for his success.
Most of us are far more Fezziwigs than Scrooges. Oddly, if we celebrated the season of giving by handing our employees a list of all the extra things we've done for them during the year, we'd be considered more akin to Ebenezer. We bow to the popular myth, give even more at the holidays, and hope it has some carryover into the New Year.
Just remember to remind your employees when you are being Fezziwig the rest of the year. A Christmas turkey for Tiny Tim isn't the same as being a good boss.
Thanks for reading! Please share Awake at 2 o'clock with another business owner.