A few weeks ago I attended one of Trinity University's Policy Maker breakfasts. Although living in a large city has its drawbacks, it is great for access to events such as these. It takes substantial ticket sales to justify top-rank speakers, and Trinity's series brings the best.
The speaker was Richard W. Fisher, immediate past President and CEO of the Federal Reserve Bank of Dallas, as well as almost 11 years on the Federal Open Market Committee, where he voted on monetary policy under Alan Greenspan, Ben Bernanke and Janet Yellen.
In Q&A time, I had the opportunity to ask how he could project robust growth over the next 20 years with the large number of Baby Boomers leaving the workforce and scaling back their consumerism.
Mr. Fisher had already warned the audience that he had no intention of making controversial or otherwise newsworthy statements, so his answer surprised me a bit.
He said that he remained confident that productivity gains through technology could offset much of the drop in workforce growth. The real problem, he said, was the failure of our educational system to prepare a generation of workers with the skills they need to succeed.
I've written previously about how small businesses are being saddled with the job of teaching young workers basic job skills. Just getting them to understand that cutting class doesn't carry over into cutting work, that there are no unlimited extra credit assignments to make up for lack of effort, and that everyone doesn't always get a passing grade, can be a real challenge.
Some years ago I employed a young Dutch woman who had come to the USA as a student in a top university. She also apparently had sufficient financial support that dropping out and taking a part-time job with me wasn't a hardship. Eventually, more out of boredom than need, she enrolled again in the local state university.
She came to me one day to coordinate her class schedule with work for the semester. (I think it was her second half of sophomore year.) These were her courses:
Great Women in Architecture
Diversity in Art
The Sociology of Class Distinction
World Geography
I asked why she bothered going back to college if she wasn't going to study anything that prepared her for a career. She laughed, and informed me that she was just catching up on the core courses required before she could declare any liberal arts major.
I'm sure each of those topics were interesting, and contributed to a well-rounded world view. What they contributed as far as preparation for the workplace, however, remains a mystery to me.
A recent survey of college students found 21% believe that the First Amendment to the Constitution should be modified to exclude free speech that is offensive.
A widely circulated essay on Vox.com expresses a liberal professor's fear of violating the "safe place" of university learning by teaching offensive literature such as the writings of Mark Twain.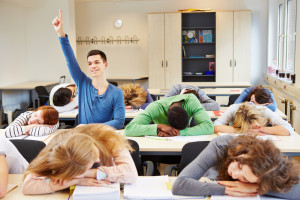 Universities now publish their 6-year graduation rates (fewer than half graduate a majority of students in 4 years.) Students with failing grades receive almost daily emails as final exams loom, reminding them that they can drop classes without penalty (except, of course to their parents' wallets — refunds aren't offered.)
It may be helicopter parents, politically correct coursework or just a general corruption in the education system driven by billions in student loans that require no accountability. Whatever the cause or causes, a college education no longer seems to carry with it an assumption of career-readiness.
There are certainly many good colleges, and an excellent education is still a great beginning for a successful career. As an employer, however, I've long since stopped assuming that a six-figure degree is, by itself, any sort of qualification for a job.