Yesterday, I received a comment from a woman on my column from 2012, "Holiday Terminations: Scrooge or Chicken?". She had been unexpectedly terminated from her position, and said in part "Employee termination during the holidays is an act of spiritual robbery that has a devastating impact which is farther reaching and longer lasting than termination at any other time of year."
My response included the following caveat: "If the termination is because an employee didn't respond to progressive discipline or a performance improvement plan, then I don't see an obligation to carry someone in the "spirit of the season." You say that you didn't see it coming, so I assume either it was due to overall business performance, or your former employer didn't follow fair and equitable HR practices."
If you read the original post, I strongly recommended that termination due to business conditions be accompanied by severance that will carry the employee through until the hiring doldrums subside in January. On the other hand, I don't think an employee who has earned termination by documented poor performance has any vested right to the extra paid holidays and bonuses that typically come with the season.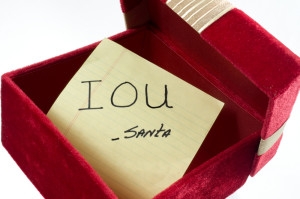 Pre-holiday termination can save an employee from incurring excess credit card debt. It puts them in job-search mode at a time when they have the most social connections and support from their family and friends. These factors certainly seem insignificant to someone who is newly unemployed, but they are in fact substantial.
I've often said in this space that downsizing due to business conditions is always tough, but an owner's obligation to the remaining employees and other stakeholders (the owner's family, customers and vendors) trumps the discomfort of an unpopular decision. Waiting an extra six weeks will never cause an employee to say "Gee, I'm glad he didn't fire me during the holidays. What a swell guy!"
On the other hand, being unemployed during the holiday season carries a special burden, and obviously puts a damper on customary celebration. It's not  "just business." If it is necessitated by financial problems, it should come with compassion and consideration. If it was earned by poor performance, it should never be a surprise. The spiritual robbery referred to by the reader comes from the lack of warning and preparation time as much as the act of termination itself.
We run our businesses all fifty-two weeks of the year. Making the Thanksgiving to New Year's period (about 12% of the entire working year) an automatic moratorium on necessary personnel changes isn't "just business." It's bad business.